A C T O R S
DANIEL DAE KIM
Hottest Homegrown Male Actor
The bad news is that Daniel Dae Kim didn't win People Magazine's Sexiest Man Alive poll for 2005. The good news is that he edged out Brad Pitt to come in fifth place with 8% of the vote. That's not bad for an actor who hasn't yet had a lead role in a major Hollywood production. Kim's chiseled and rugged face won raves on 24, ER and Angel. He has guest starred on Seinfeld and CSI and been seen in The Hulk and Spider-man 2. He was also seen in the suspense thriller The Cave. But Kim is best known for his controversial role on the hot ABC series Lost. His character Jin is the stereotypical overbearing Corean (Korean) husband to his submissive wife. The fact that his character can't speak English has been a bit limiting but evidently Kim's acting ability and good looks have been more than enough to make up that handicap. Unfortunately for female fans, Kim lives in Hawaii with a wife and two kids.
---
JOAN CHEN
Best Diva- Turned- Hardcore- Character- Actor
The 25-year-old Joan Chen was unforgettable as Puyi's sensuous bi-sexual addict wife in Bernardo Bertolucci's The Last Emperor (1987). But she seems to be improving with age. In Oliver Stone's Heaven and Earth (1993) Chen put on 20 harsh years to play a hardscrabble old Vietnamese peasant. More recently, in the lesbian comedy Saving Face she's delightful as a Chinese female Archie Bunker in extremis.
[CONTINUED BELOW]
---
---
JOHN CHO
Best Young Homegrown Actor
What impresses Asian American moviegoers is that John Cho was thoroughly convincing both as the icily jaded Steve Choe in Justin Lin's Better Luck Tomorrow (2002) and as the hysterically repressed Harold Lee in Harold and Kumar Go to White Castle (2004). Fortunately, Hollywood is equally impressed. Not only is Cho slated to star in the sequel Harold and Kumar Go to Amsterdam (2007), but also to lend his comic talents to several other films currently in production.
---
KELLY HU
Hottest Homegrown Action Babe
Honolulu native Kelly Hu got her show biz start by winning Miss Teen U.S.A. 1985. That explains two things: why she's still hot in just about any role, and why her acting has the emotional range of a pop tart. Even so, she was tantalizing as a sorceress in Scorpion King (2002) and luscious even as nasty Lady Deathstrike in X-Men 2 (2003), proving that a good costume designer is much more important to the success of a blockbuster than a good acting coach.
---
JET LI
Most Impressive Asian Action Import
He's short and his face remembers teen acne, but Jet Li seduces audiences with his effortless physical mastery of every situation. Sure, it's fantasy, but it works only because it's backed up by the slickest moves in today's martial arts scene. Li often reminds us of Bruce Lee in both lighthearted scenes as in Romeo Must Die (2000) and in moments of implacable fury as in Kiss of the Dragon (2001). In legendary wirework ballets like Hero (2005), Li has no equal.
---
ZHANG ZIYI
Hottest Imported Female Action Babe
Zhang Ziyi dawned on the American consciousness as the bratty swordschick in Ang Lee's Crouching Tiger, Hidden Dragon (2000). She was just 20 then. The daughter of a Beijing economist dad and kindergarten teacher mom had initially wanted to become a dancer. At the tender age of 15 she chucked that dream in favor of acting school despite having won a national young dancers competition. Nowadays the only dancing Zhang does is of the high-kicking kind, but her status as the world's most popular Chinese female actor is secure enough to withstand playing the lead in Sayuri (2005), the movie adaptation of Arthur Golden's bestselling Memoirs of a Geisha.
---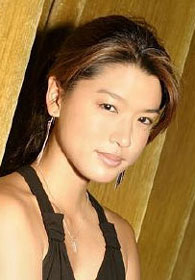 GRACE PARK
Freshest Female Face
Yes, if we were asked to create an android from scratch, the result might look a lot like Grace Park. As every male fan of the Sci-Fi Channel has figured out by now, Park is the perfect blend of the girl-next-door with the all-out fantasy hottie for an irresistable package. It's no wonder that as Lt. Sharon "Boomer" Valerii, she's become the prime attraction of the Sci Fi Channel's top-rated Battlestar Galactica. Admittedly, playing a human-looking robot leaves something to be desired in the way of depth of character development. On the other hand, only a through-and-through hottie like Park could have pulled off the level of physical perfection demanded by a role of that nature. What drives her? Being laughed at by her father when she told him she would become a multi-millionaire star. She's also been seen in Edgemont, The Outer Limits, Dark Angel and Stargate SG-1. In addition to English, Park speaks Corean (Korean), French and Cantonese. She recently married a Corean Canadian real-estate developer she had dated for three years.
---
TAKESHI KANESHIRO
Hottest Imported Male Action Figure
Taiwan-born half-Japanese Takeshi Kaneshiro has been a first magnitude pan-Asian star since his early twenties. Now in his mid-30s, Kaneshiro's rugged but long-lashed features have graced three dozen Chinese and Japanese productions, mostly of the action genre. In Zhang Yimou's lyrical martial arts epic House of Flying Daggers (2004) Kaneshiro is memorable as an army captain who falls into a fatal love triangle with a beautiful but stubborn rebel. Sadly, it seems only a matter of time before Kaneshiro is sucked into the Hollywood wringer and spit out in pieces like Chow Yun-Fat.