ATHLETES

DAT NGUYEN
Best Stereotype-Busting Athlete
By setting the all-time Texas A&M record in tackles, then becoming a record-threatening starting middle linebacker for the Dallas Cowboys in his third pro season, the 5-11 Nguyen did more than anyone to dispel the myth that Asians are too small or weak to excel in power sports. By late in his eighth season Nguyen had racked up 421 career tackles, and became the first player to lead the Cowboys in tackles the past two seasons since Ken Norton Jr. in 1992-93. At the age of 30, Nguyen has become increasingly hampered by a strained neck and knee problems. Asian Americans were disappointed to learn that he is likely to retire from pro football at the end of the 2005-06 season.
---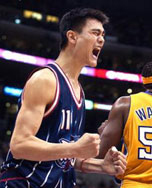 YAO MING
Most Watched Asian Athlete
The top pick of the 2002 NBA draft got more coverage than any other human being, on the court as well as off. The 7-6 Houston Rockets center has been relentlessly double- and triple-teamed and drawn into foul trouble. But as the only bona fide Asian NBA superstar, Yao Ming's heaviest burden has been carrying the hopes and expectations of the world's Asian basketball fans while serving as the star of a team in troubled transition. The toughest test of all may be the first month of the 2005-6 season. With partner Tracy McGrady hobbled by injuries, Ming was thrown into unequal contests in game after game. He responded with guts and real leadership in keeping the Rockets from collapsing at the launch pad.
[CONTINUED BELOW]
---
---
MICHELLE WIE
Most Impressive Teen Prodigy
Michelle Wie has to be real because her life and career are way too perfect to be fiction. Most fans focus on the fact that at 16 the Hawaii native stands 6-foot and can drive 300 yards. Together with her good looks, these attributes have earned her a $10 million payday in Nike and Sony sponsorships the day she turned pro. But those who have followed her since Wie attracted the notice of sportswriters as a 12-year-old amateur are more impressed by her other drive, the one that makes her want to risk competing against men when she's virtually guaranteed high finishes in LPGA tournament. She didn't make the cut at Casio — her first assault on the men's game since turning pro — but few doubt the new It Girl of pro sports will succeed in making history.
---
TIMMY CHANG
Most Admired Athlete We Won't See for a While
Timmy Chang has been wowing football fans since he came within one of tieing the high school TD pass completion record with 64 in his senior year. And that was while compiling a 4.3 GPA at exclusvie St. Louis High. As a UH Warrior Chang set the current NCAA record of 17,072 passing yards. His 117 TD passes rank second in NCAA history. Yet the 6-2, 211-pound Chang was passed up in the NFL draft. Agent Don Yee put it down to "a subconscious perception problem that people have of Asians." Though Chang was both taller and heavier than some top draft picks, NFL scouts decided that he was "short" and "looks frail". Chang is having to take the long way into the NFL by starting in NFL Europe, a league made up mostly of Americans playing in German cities.
---
MICHELLE KWAN
Most Inspiring Female Athlete
Her five world and nine national championships only deepen Michelle Kwan's legendary Olympic disappointments. The first came in 1994 when she was left off the team because the U.S. Olympic committee didn't disqualify Tonya Harding after her ex-husband took a bat to Nancy Kerrigan's kneecaps. In 1998 at Nagano the heavily favored Kwan delivered flat performances and settled for silver behind Tara Lipinski. In 2002 Kwan, again favored, stumbled during her free skate and took bronze. Turin is Kwan's last chance. Qualifying for the weak U.S. Olympic team is a cinch, but this time the odds are stacked heavily against the 25-year-old winning gold or even another silver. Regardless of how that quest ends, Kwan will retire from her amateur career as skating's grande dame for having combining grace with power, poise with passion. And her practice of seating her dad next to herself at major competitions gave a rare boost to the image of Asian fatherhood.
---
HIDEKI MATSUI
Classiest Asian Import
Back in 2002 when Hideki ("Godzilla") Matsui signed with the Yankees as a free agent, no one would have expected him to top Ichiro Suzuki's 4-year, $44 million contract with the Seattle Mariners. Come November 2005, that's exactly what Matsui did by earning a $52 million deal to extend his stay with the Yankees four more years. Money isn't everything, but the deal spoke loudly about the place Matsui had carved out in New York. After the playoff loss to the Angels, Matsui told manager Joe Torre, "I'm sorry. It's all my fault." That pretty much made him the team's conscience and clinched his image as the classiest guy in MLB, as well as one of its handful of top situational hitters (along with Ichiro, among others). Torre said it best: "That's who he is. He takes on a great deal of responsibility. With players today, to have someone do that, especially with the big stage like this, is very important."
---

MICHAEL CHANG
Most Inspiring Male Athlete
Picture this: You're 17, 5-8, 138 pounds and playing against Ivan Lendl, the winningest player in the Open Era. Lendl takes the first two sets and breaks you in the opening game of the third. If you're like most players, you're on your way to the airport. If you're Michael Chang, you break right back and take the third set. When you start cramping in a tight fourth set, you hit moonballs and underhand serves to throw off the unflappable Lendl's rhythm. You somehow get to match point. As Lendl prepares to unleash his serve, you step forward until you're standing just behind the service box. Lendl double faults and you go on to become the youngest man ever to win the French Open. Chang pulled off the near-miraculous win many more times on the way to compiling 34 titles before retiring in 2003. Chang remains an inspiration not only to Asian American tennis fans but to all underdogs in every sport.