LEADERS
NORMAN MINETA
Secretary of Transportation under President George W. Bush
Most Pioneering Leader

Norman Mineta's long, illustrious political career reads like a compendium of firsts. Back in 1971 the J-A internee, Army veteran and Cal grad became the first Asian American mayor of a major U.S. city. In 1975 he became the first Asian American Congressman from a mainland state. During 20 years in Congress Mineta amassed impressive clout as Chairman of the Public Works and Transportation Committee. In 2000 he became the first Asian American to be appointed to a cabinet post as President Clinton's Commerce Secretary. The following January 25, as President George Bush's Transportation Secretary, Mineta became the first person to serve in two different cabinet posts under presidents of different parties. His Senate confirmation hearing was a 100-0 lovefest.
---
GARY LOCKE
Former Governor of Washington State
Most Promising Public Figure


What's not to like about Gary Locke? He's a third-generation Chinese American married to a telegenic Chinese American TV journalist and has two cute kids. In his first term as Washington governor, Locke shaved 44% off the welfare rolls and used the savings to revamp a failing educational system into one of the nation's best. In 2000 he won reelection by the biggest landslide in Washington history. Most impressive of all, in 2004 he decided not to seek a surefire reelection to be able to enjoy a few precious years with his kids. Everyone is looking ahead to 2008 when Gary Locke should be well poised to join Hillary Clinton for a White House run.
[CONTINUED BELOW]
---
---
WILMA CHAN
California Assemblymember for Oakland
Most Tireless Children's Advocate


No one has focused more consistent effort on ensuring the welfare of California's children. Wilma Chan's dedication, zeal and intelligence won the Stanford grad a leadership role soon after her election to the California Assembly in 2000. In 2001 Chan was appointed Assembly Majority Whip. In 2002 she became the first woman and first Asian American to be elected Assembly Majority Leader. Currently Chan is sponsoring legislation to ban BPA and phthalate chemicals from baby products, to make health insurance available to all California children, and to provide voluntary pre-school for all children. She represented California at the National Governor's Forum on Quality Preschool in Florida. In the past Chan has chaired the Select Committee on California Children's School Readiness and Health, and the Assembly Select Committee on Asian Trade.
---
ERIC K. SHINSEKI
Former U.S. Army Chief of Staff
Most Prophetic Public Figure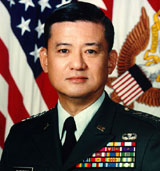 In late February of 2003, as the Bush administration massed U.S. troops for the invasion of Iraq, then Army Chief of Staff Eric Shinseki told the Senate Armed Services Committee that stablizing Iraq after a successful invasion would require "several hundred thousand" U.S. troops. The estimate was ridiculed by Asst. Secretary of Defense Paul Wolfowitz as 'wildly off the mark.' Three years later the world knows who was off the mark. The Kauai native retired in 2003 after 38 years in the Army, fueling speculation that he would succeed aging Sen. Daniel Inouye or run for governor in 2006. He has denied an interest in the governorship but Shinseki would be a formidable candidate for any office. For valorous leadership under fire during two tours of duty in Vietnam, the West Point grad won two Distinguished Service Medals, the Bronze Star, several Purple Hearts, and most importantly, the undying devotion of his men. "The finest person and the best officer I have ever served with," was the assessment of one former sargeant who thought Shinseki had died from his injuries until learning of his appointment to Chief of Staff 30 years later.