PERSONALITIES
LISA LING
Most Exciting Journalist
Imagine being able to go and explore for yourself the people and places that the world is abuzz over. That's exactly what Lisa Ling does as host of the acclaimed Sunday evening series National Geographic Ultimate Explorer. Limitations of distance, topography and even danger are no barrier against Ling's relentless curiosity about everything from female suicide bombers, Yao Ming, life at the bottom of the Atlantic — if it intrigues her, she's there. But then she's no ordinary reporter. Lisa Ling has been a journalist for 17 years. That's all the more impressive when you consider that she's only 32! She was in high school when Ling was spotted as having that rare mix of curiosity, empathy and verbal skills needed to bring issues into American living rooms. Half a lifetime later, she still does.
---
MING TSAI
Smoothest TV Chef
Ming Tsai has shown America that fusion doesn't have to mean confusion. Yes, at times the on-air kitchen god does chatter a bit as though to finish before something burns, but no one is more fluid at deconstructing fusion techniques between bastings, wok tosses and commercial breaks. It doesn't hurt that he retains the cherub-cheeked good looks and boyish breathlessness that first set female hearts mincing. And Asian guys like having the world see that you don't need a goofy accent to cook great Asian dishes. Before Tsai opened his admired Blue Ginger restaurant in Wellesley, Massachusetts and began hosting PBS's Simply Ming, he made himself a nouvelle icon by whipping up culinary excitement on the Food Network's East Meets West and the peripatetic Ming's Quest. Today Tsai is also one of three celebrity judges on PBS's reality show Cooking Under Fire.
---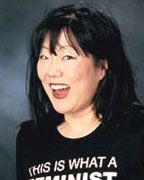 MARGARET CHO
Bravest Entertainer
Did it take guts to come out of the closet at a time when the Asian American community was still struggling with the fact that some of its own sons and daughters were dying of AIDS? Margaret Cho had the guts to go several steps better. After the mid-season cancellation of the pioneering TV comedy series All-American Girl (1994) and a broken relationship, Cho did six years of desperate soul-searching, then went on the road with the autobiographical one-woman show I'm the One I Want. It laid bare the pain and hilarity of being fat, gay and misunderstood and established Cho as a leading comedian for America's dispossessed. Now, after having won critical acclaim for four one-woman shows, a feature-length narrative film (Bam Bam and Celeste) and film versions of her shows, Cho has transcended race and sexual orientation to be regarded one of the funniest, most relevant and penetrating commentators of today's American society.
---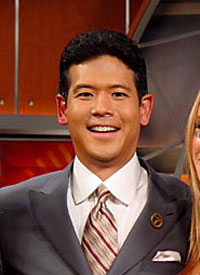 ROB FUKUZAKI
Best Nonstop Talker
Rob Fukuzaki is as all-American as they come. For starters he was born on July 4. Then there's his all-Asian-American baby-faced-boy-next-door good looks. Last but not least, if he isn't the ultimate authority on football, he sure talks like it. That's why during football season ESPN taps him to host Sports Zone in addition to doubling as sports anchor for L.A.'s ABC7 Eyewitness News. Fukuzaki's unmistakeable passion for sports is a lifelong one. Even as a kid growing up in Hawaii he was constantly playing one sport or another. He wrote articles for his high school paper's sports section. His fast-talking style is probably an offshoot of his first broadcasting gig: yakking up a storm on Honolulu top-40 radio station KXPW.
---
SOPHIA CHOI
Most Poised News Anchor
Some might say Sophia Choi's proven talents as an investigative journalist are wasted in her current gig as a co-anchor for CNN Headline News. But not those who watch her day after day. To each line of news Choi imparts just the right nuance. She's deft at nudging interview subjects to unload their best thoughts in sixty seconds or less. Of course, she's masterful at the most difficult part of an anchor's job — trading witty quips on cue with co-anchor Thomas Roberts and various reporters. And Choi's impeccable wardrobe makes viewers wonder if CNN anchors aren't way overpaid. Given her brainy, well put together girl-next-door image, we suspect Choi will soon be on her way to a less repetitive gig. She co-hosted the CBS Morning Show for L.A.'s KCBS before joining CNN in October of 2001.
---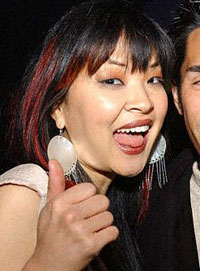 SUCHIN PAK
Sassiest TV Host
Suchin Pak's most memorable blooper as an MTV host? Calling the rapper Ice Cube, Ice Pick. Sounds like a freudian slip. Ice pick is an apt metaphor for Pak's interviewing style. She is always very sharp and very penetrating even while sporting the skimpy outfits and big cherubic smiles that are de rigeur for the hip hotties who host MTV music segments. No wonder TV dials stay untouched when Pak is on. She became an MTV correspondent in May of 2001, but has been on TV since high school when she caught the eye of a news producer for San Francisco's KGO-TV and was included in a news segment. The program director saw her and cast the sassy lassie to host a teen show. For college she went across the bay to UC Berkeley but found herself hosting PBS's Newton's Apple while studying for exams in the job's farflung locales.